We strive to produce healthy, well-balanced Shih Tzu puppies, with outgoing and loving temperaments.  They will grow to be approximately 8-12 pounds. Before leaving our home, all of the puppies will have been vet checked, wormed multiple times and receive their first puppy vaccine(s).  They each come with a one-year congenital health guarantee.  Our puppies are $900, as of 2022.  If you would like to add an extra loveable Shih Tzu puppy to your home, we will be happy to help.  Our commitment to you and your puppy will last long after you take him or her home.  Please visit our Swaying Sycamore Farm page, on Facebook.  If you have any questions, feel free to contact us.  
We Do Not Ship!
swayingsycamorefarm@gmail.com
(765) 365-6998
#swayingsycamorefarm  #ssfshihtzus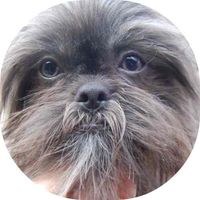 When a Shih Tzu is labeled as a true Blue, it may or may not have a "blue" colored coat.  Blue only refers to the color of the nose and pads of the feet.  They are more of a gray color, not black.  They also lack the black outlining of their eyes.  It can have any coat color variation.  A gray or silver coated dog is not always a true Blue.  This coloration can better be seen in natural lighting or under a daylight bulb.  The picture to the left is courtesy of the Miracle Shih Tzus' website.
---
Swaying Sycamore Farm's Purchase Agreement / Health Guarantee



The health and well-being of our puppies and the satisfaction of our customers is very important to us.  If you are interested in purchasing a puppy from us, please click on the above link and read our purchase agreement/health guarantee.  If you have already decided that you will be purchasing one of our puppies, please sign and date the second page and email or text a picture of it.  Please bring your original signed copy to your puppy pick up.  Thank you!
---
We do not have any puppies available at this time.  Please check back for new litters.
---
We offer microchipping, with lifetime registration, for only $25 (normally $29.95)
---
All deposits are non-refundable.  If you have any questions or concerns, regarding payment(s), please feel free to contact us.  We would be happy to help.
PAYMENT OPTIONS BELOW
---